It's that time of year again! I have been looking for a decorative sleigh die to use on winter / Holiday / Christmas cards and home decor projects.
I though I'd post a list of those I have found with dimensions to help anyone else deciding which one to buy.
Five of these will even fit the new mini die-cutting machines Spellbinders Sapphire and Tattered Lace Baby Blue.
The perfect sleigh can then be teamed up with presents, reindeer, horses, Santa Claus or even the Snow Queen and cut in miri board or embossed with powders or covered in glitter and snow effects.
Tonic Rococo Santas's Sleigh 1015E
Dimensions/Size: 4" x 2.5" (103.5mm x 60mm)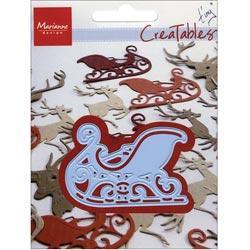 Marianne Creatables Santa Sleigh
Dimensions/Size: 1.5" x 2.5" (40mm x 65mm)
Spellbinders Holiday Collection Shapeabilities Reindeer and Sleigh Set
Dimensions/Size: Reindeer: 2.10" x 3.60", (53mm x 92mm).
Sleigh: 4.10" x 2.75", (104mm x 70mm)
Die-namites Merrry Sleigh DN-1206
Dimensions/Size: 3 3/16" x 3" (80mm x 76mm)
Tattered Lace Sleigh
Dimensions/Size: 3.5" x 2.5" (90mm x 62.5mm)
Sweet Dixie Santa's Sleigh SDD003
Dimensions/size: 4" x 2.5" (100mm x 60mm)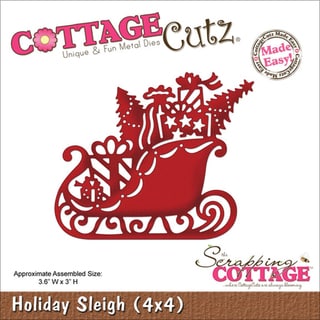 Cottage Cutz Holiday Sleigh
3.6" x 3" ( 92mm x75mm)
Cottage Cutz Winter Wonderland Sleigh
Dimensions/Size: 3.6" x 2.5"(95mm x 65mm)